Wagner-Smith Equipment Co. embraces Scope Control at 5 locations across the country.
Justin McCoy
|

July 06, 2023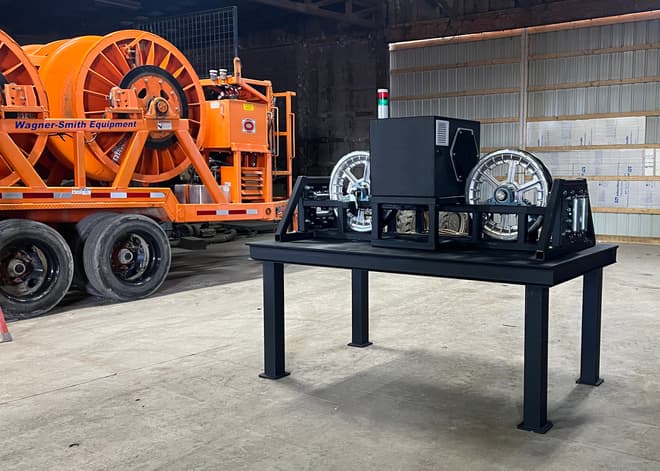 Established in 1917, Wagner-Smith Equipment Co. has been synonymous with line-stringing equipment for as long as the industry has existed. As a trailblazer for generations, the company has excelled in designing, producing, renting, and servicing overhead and underground line-stringing equipment.
With one of the most expansive rental fleets across the continental United States, the inspection of stringing lines is a daily, ongoing effort at Wagner-Smith Equipment. Even with standardized procedures in place, manual visual inspections of these lines are extremely labor intensive and require technicians to maintain constant focus on the line while it is being paid out and back in.
Identifying and resolving stringing line defects is of paramount importance to Wagner-Smith Equipment. The Scope Control system, capable of 98% accuracy in detecting line irregularities and predicting residual break strength (RBS) within a +/-5% range of the actual RBS, emerged as an ideal solution.
Since January, Wagner-Smith Equipment has installed Scope Control systems at five locations across the United States. Using Scope Control, operators are able to efficiently perform detailed inspections and managers are able to review the results instantly for the entire fleet. This promotes open and effective communication regarding the health of operational lines, enabling operators to quickly develop standardized protocols for addressing and repairing identified issues, leading to consistent and streamlined processes across the organization.
For Steve Aston, Vice President of Operations at Wagner-Smith Equipment, proper equipment maintenance is directly linked to the company's commitment to providing the most reliable stringing solutions for safer operations. Both the pulling machine and stringing lines are treated as mission-critical assets, affecting front-line operators and a wide range of stakeholders in the utility industry and the broader community.
The integration of Scope Control is a key component in reinforcing Wagner-Smith's commitment to delivering the most secure mission-critical stringing equipment in the industry. The limitations and risks associated with sole reliance on manual visual inspection for monitoring the health of stringing lines are significantly mitigated with the implementation of this system.
Following an intensive beta trial at the Burleson, TX Headquarters, the company successfully deployed Scope Control systems throughout the country. With this new technology, they have strategically developed new protocols to enhance maintenance procedures for their own fleet and for customers seeking Inspection-as-a-service. With five locations offering enhanced inspections, Wagner-Smith Equipment customers can be assured that they are using the safest lines in the industry, no matter where the operation is located.
Be sure to follow us in the coming weeks as we showcase how Wagner-Smith is transforming stringing line inspection for safer operations.
-